Essential information regarding Kozintsev's film version
Kozintsev later produced a screen version of Hamlet with, incidentally, the original Shakespearean ending. It was the most popular Soviet film of 1964. This film, though well-known throughout Europe, has remained relatively unknown here. One rumored explanation: it was released shortly before the planned premiere of Richard Burton's Hamlet. In order to minimized competition, this rumor holds, the Russian film was scheduled for previewing at the same time as other films the critics would consider essential. I was asked to attend and review Kozintsev's Hamlet because a film-critic friend felt obliged to attend another screening at the same time.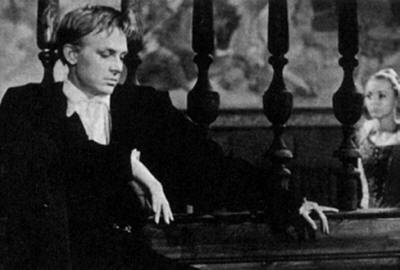 Smuktunovsky as Hamlet with Vertinskaya as Ophelia.
Kozintsev's aim was to "emphasize man's essential dignity in a world representing his indignity: and to "'make visible' the poetic atmosphere of the play." He explained that he did not want to a castle setting which was too realistic "because the ultimate prison for Hamlet was not made up of stone or iron, but of people."

Kozintsev made some cuts and some additions in order to bring out his conception of a Hamlet whose tragedy is caused by forces primarily outside of his own mind. (In contrast, Olivier's Hamlet [1948] was introduced with Olivier's statement, "This is the tragedy of a man who could not make up his mind"; and Olivier recited "the vicious mole of nature" passage as the key to Hamlet's character.) Kozintsev's Hamlet is a strong, honest, idealist struggling in a decadent court against the rottenness of Denmark.
Kozintsev cuts Hamlet's advice to the players (Which was perhaps too removed from the film's central emphasis). The King is seen at prayer, but Hamlet does not appear and make his vengeful speech. Fear, the film suggests, brought Claudius momentarily to his knees. Another comment on religion may be seen in a glimpse of Laertes dedicating himself silently to revenge, sword in hand, before an alter.

Some of the most effective scenes involve Ophelia. Dressing for Polonius's funeral, she is strapped into a harsh iron corset, the dark vertical lines of which suggest prison bars. Ophelia is first seen receiving stiff, formal dancing lessons from a rigid old woman, to Shostakovich's music, tinkling and sweet, as played on a cembalo. In her madness, she dances again to the same tune, now disturbingly discordant. The shot of her body floating in the water conforms to Russian poetic tradition.

From the first moments of the film, we are aware that "Denmark is a prison." We see jagged rocks and the somber shadow of a castle, which then appears to ominous music. Its immense drawbridge swings shut. Armed guards, posturing courtiers with false smiles, and long, dark hallways further promote the atmosphere of constriction and oppression. Omnipresent statues of Claduius underline potential associations with Soviet reality (it seems that no one has yet pointed out this particular link to Stalin).

Extended focusing on the flight of a seagull after Ophelia's death my recall the use of the symbol by Chekhov. One critic singles out Kozintsev's success in incorporating images of sea and sky (in Olivier's film, he believes, they are mere background additions.) Of all screen versions of Shakespeare's plays (up to 1968), he deems Kozintsev's the most imaginative.

While discussing the film, Soviet critics tend to broach larger issues. For example, Chushkin writes that the hearts of millions are touched by "the beauty of its inner spiritual form, its humanism, its moral force."

During a recent trip to the Soviet Union, I was interested to learn that Shakespeare is often regarded as fulfilling primarily a spiritual hunger. In conversation with producers, playwrights, and critics, the clear impression emerged that literature, poetry, theater, and especially Shakespeare sometimes fill a need formerly satisfied by religion. This need can perhaps be felt in Chushkin's estimate of the "contemporary reverberation" (sovremennoe zvuchanie) of Kozintsev's Hamlet: "the theme of moral obligation, the theme of conscience, the defense of the worth of man and the hatred of inhumanity, the responsibility of a man from what happens in the world."
-Eleanor Rowe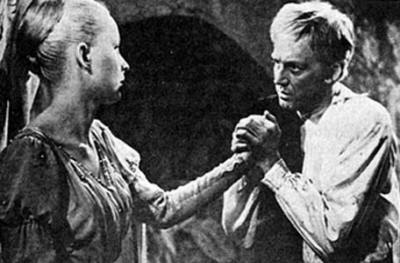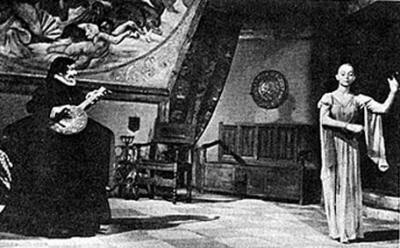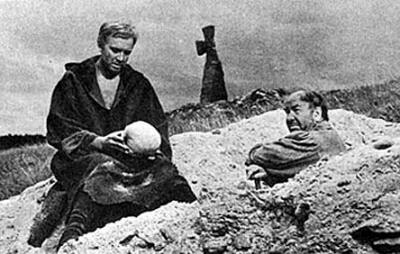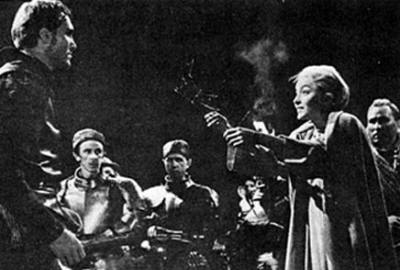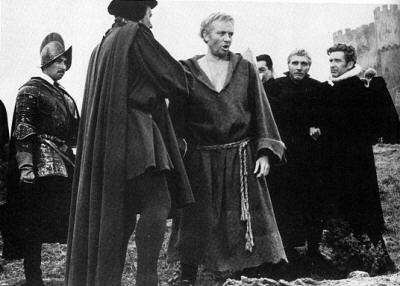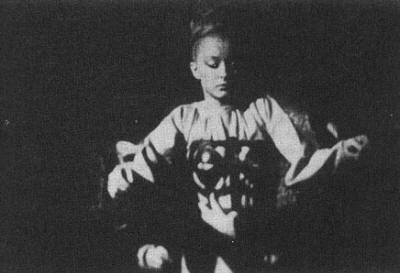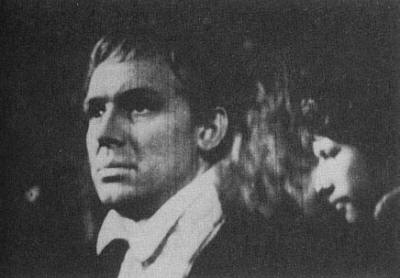 The New York Times review:
The second New York Film Festival got off to an impressive start last night with the screening of a soviet-made version of "Hamlet" in Lincoln Center's Philharmonic Hall.
The attraction was appropriate to the occasion, for this "Hamlet" is a vast and regal show of strong cinematographic values that was entirely congenial in the air of esthetic zeal and festival ardor that filled the well-packed hall.
According to the festival management, there was a capacity audience in the 2,500 seat theater when the lights were dimmed and Grigory Kozintsev, the director of "Hamlet," was introduced from the stage.
This was considered a banner beginning for this year's festival, which will show more films (26) and run three days longer than last year's successful event.
As for the Soviet "Hamlet." It is a spectacle, in the main—a large, mobile, realistic rendering of the melodramatic action of the play—that depends entirely for its impact upon its striking scenery, the physical sweep of its performance and the grand effects that the camera achieves.
Since the dialogue is spoken in Russian and the English subtitles are slim—just few words each time, from Shakespeare's text, to cue the audience in—it goes without saying that the dialogue, the verbal poetry, means little in the film. It doesn't even have a noticeable cadence to rouse the emotions through the car.
But the lack of this aural stimulation—of Shakespeare's eloquent words—is recompensed in some measure by a splendid and stirring musical score by Dmitri Shostakovich. This has great dignity and depth, and at times an appropriate wildness or becoming levity. In the scene of Ophelia's burial, for instance, it is light but significantly weird, carrying on with a new note of poignance the strain from Ophelia's mad scene.
However, it is clear that the director—who may be remembered, by the way, for his direction of the brilliant "Don Quixote," with Nikola Cherkasov, a few years back—is not dependent on aural stimulation. He is concerned with engrossing the eye. And this he does with a fine achievement of pictorial plasticity and power.
His Hamlet is straight from the shoulder, a strong, literal-minded young man who is angry more often than moody and fixed by his father's ghost. When he follows the spirit on to the ramparts, wild horses break from their stalls and strange noises shriek around the castle, which is a genuine old stone castle in the Crimea.
Mr. Kozintsev has made a big production of the arrival and performance of the Players, and Hamlet's "To be or not to be" soliloquy is spoken—or rather walked — along a rocky, surf-pounded shore. Other scenes of minor importance are played in the angry outdoors. When Ophelia goes mad, she races among a troop of soldiers in the castle's great hall.
Landscape and architecture climate and atmosphere play roles in this black-and-white picture that are almost as important as those the actors play. And the latter are excellent—all of them—in their movements, expressions and passionate moods.
This film has been acquired by Walter Reade-Sterling for later in New York. For the present, it has got the festival off to a spanking start.